Raise your hand if this has ever happened to you: You apply your makeup in the morning and you're feeling yourself. Then, around noon, you catch a glimpse of your reflection in the mirror and your forehead has basically become a mirror itself.
If you've ever been hit by the grease train, it's time to start using a setting powder for your oily skin ASAP. Don't get scared by the word 'powder' though. The best setting powders for oily skin will not, I repeat, will not make you look caked-on, the way older generation powders can.
The key to applying them: Use a large, fluffy brush to lightly dust your whole face after you're done applying your foundation and concealer. Not only will you see less shine throughout the day, but you'll notice your makeup lasting longer too. Double win!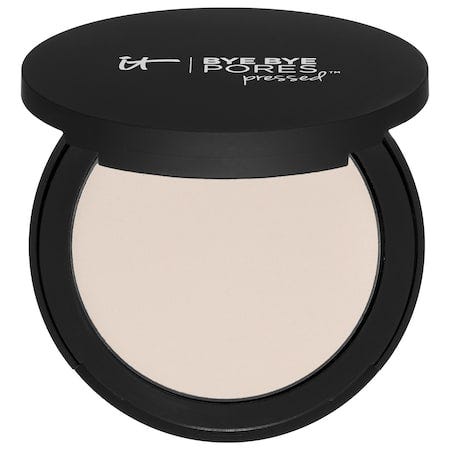 IT Cosmetics Bye Bye Pores Pressed Poreless Finish Airbrush Pressed Powder
sephora.com
$29.00
Oily skin and large pores tend to go hand in hand. This translucent formula helps blur the size of pores, leaving behind an airbrushed finish. This baby is also packed with anti-aging antioxidants and peptides so your skin is actually getting healthier as you use it.
2
BEST FOR DARKER SKIN TONES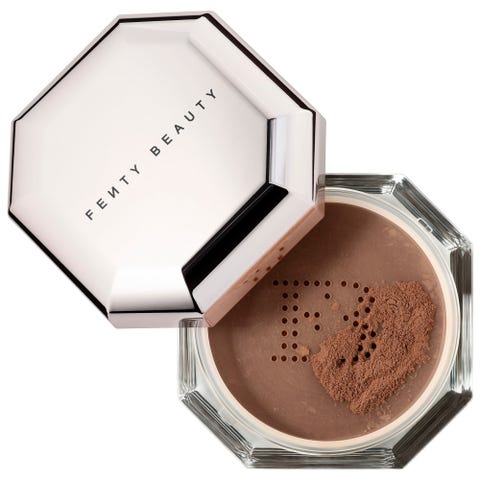 Fenty Beauty by Rihanna Pro Filt'r Instant Retouch Setting Powder
sephora.com
$32.00
Leave it to Rihanna to come out with the most flattering (read: not chalky) line of inclusive setting powders. This loose formula comes in eight sheer shades that reduce shine and blur pores.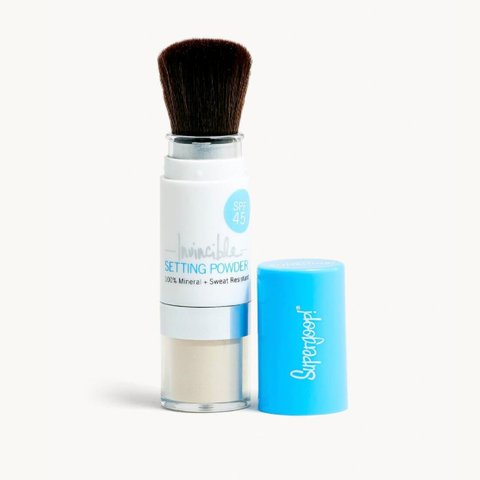 Supergoop! 100% Mineral Invincible SPF 45 Setting Powder
amazon.com
You're constantly multitasking, so shouldn't your products work just as hard as you? This brush-on formula (amazing for on-the-go touch-ups) not only sets makeup and sops up oiliness, but it also gives you broad-spectrum mineral UV protection.
4
BEST DRUGSTORE SETTING POWDER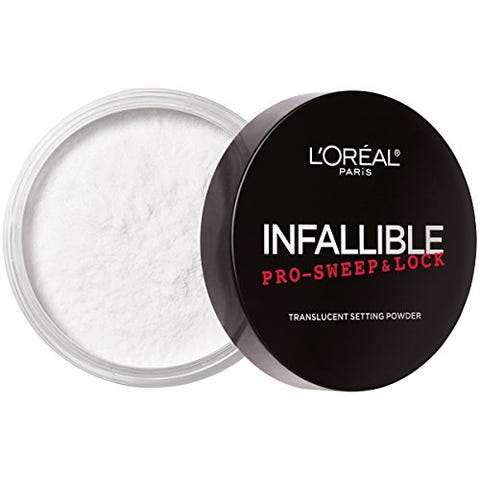 L'Oréal Paris Makeup Infallible Pro-Sweep & Lock Loose Matte Setting Face Powder
amazon.com
Nixing shine doesn't need to break the bank. This translucent formula (so it works for all skin tones) is super lightweight and sheer, but still has serious oil-nixing and setting power.
5
BEST NATURAL SETTING POWDER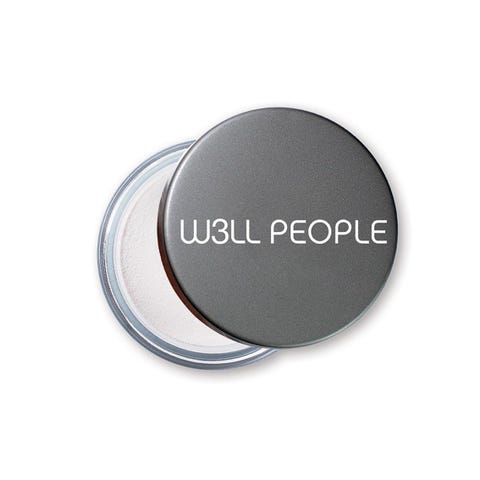 W3ll People Natural Bio Brightener Invisible Powder
amazon.com
$26.00
Made from only five ingredients, this clean powder is free of chemical nasties like parabens, phthalates, and fragrance. You'll love how lightweight it feels, and how it leaves skin looking radiant, but not greasy.
6
BEST ANTI-REDNESS POWDER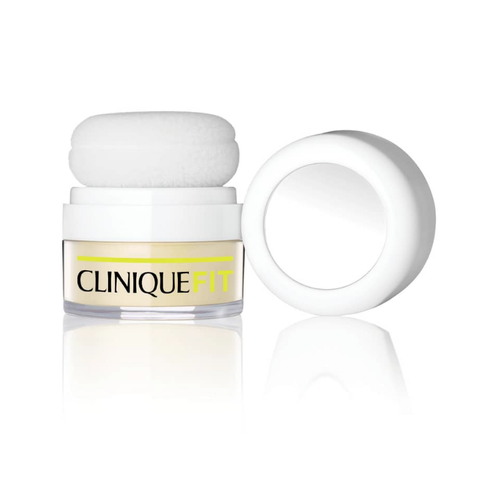 CliniqueFIT Post-Workout Neutralizing Face Powder
nordstrom.com
$29.00
Meet your new gym buddy. This yellow-tinted powder works to get rid of post-workout shine and that dreaded all-over flush. Think back to the old-school color wheel from art class: Yellow is across from red, so it helps to cancel out those ruddy tones.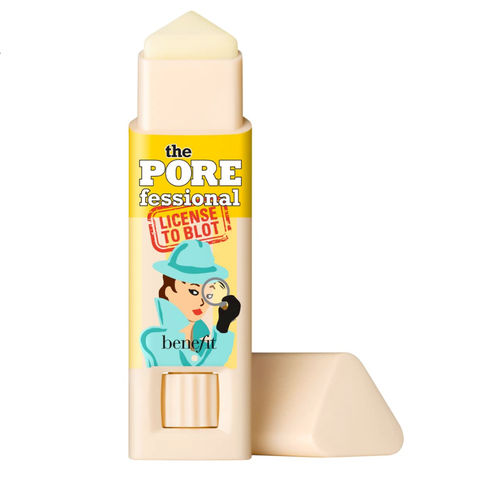 Benefit The POREfessional License to Blot Oil Blotting Stick
nordstrom.com
$20.00
How genius is this stick? The triangular shape helps it get into those oily areas around your nose. You can apply this at any time of day when you feel like you're getting a little shiny.
8
BEST BUILT-IN APPLICATOR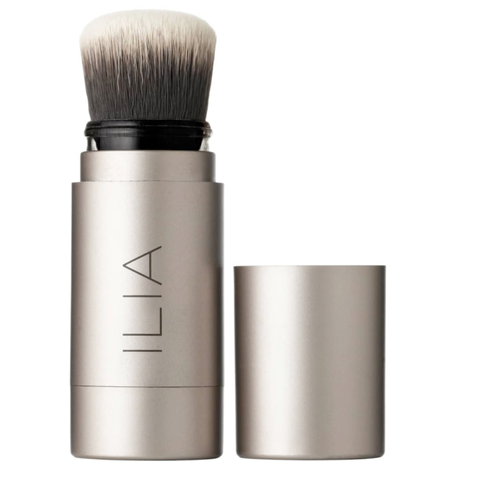 ILIA Flow-Through Soft Focus Finishing Powder
nordstrom.com
$34.00
Talk about bang for your buck. You get an amazing clean setting powder (no parabens, phthalates, or synthetic fragrance), plus a really nice application brush in one. This is the ultimate travel-friendly find.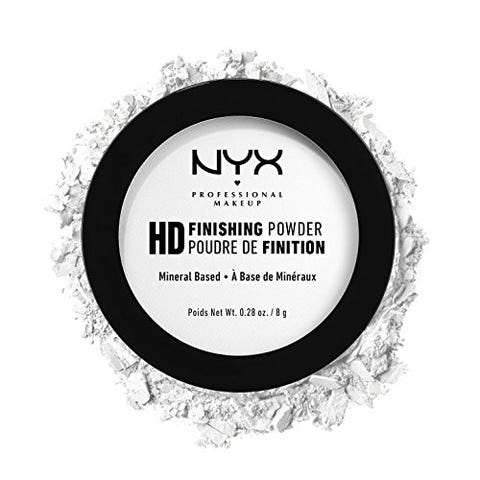 NYX High Definition Finishing Powder
amazon.com
All about that selfie life? Then you're going to love this formula specially made to avoid bounce back and look natural with HD cameras.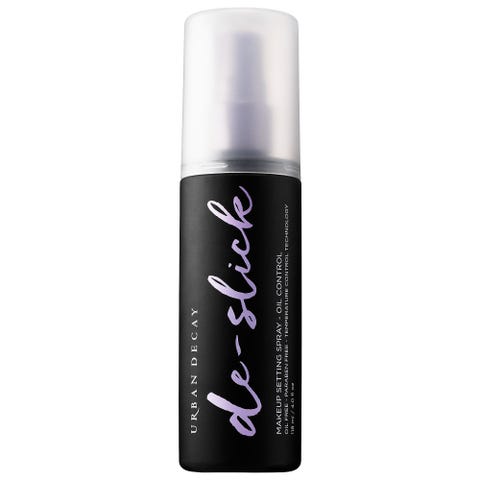 Urban Decay De-Slick Oil-Control Makeup Setting Spray
sephora.com
$32.00
Technically, this isn't a powder, but it's an awesome keep-in-your-bag option to spray on throughout the day without needing to pile on extra powder — we're trying to avoid cake-y here, people.
Just spray on this weightless mist for an instant hit of mattification. As a bonus, it makes all of your makeup last for hours, which is perfect if you work out with makeup.