Make your morning routine work double-time for your skin.
By now you should know just how important it is to protect your skin from the sun — no matter the weather. Our Good Housekeeping Institute Beauty Lab experts recommend wearing sunscreen every single day (yes, even when it's cloudy out). That's because the best defense against aging and sun damage is a solid, broad-spectrum sunscreen to protect against harmful UVA and UVB rays.
But it can be difficult to remember to apply sunscreen on the days you're not basking by the pool or hiking a sunny trail. We have the solution: everyday moisturizer with SPF baked right in. Formulated with sun protection, these lotions offer the best of both worlds: hydration and protection. Plus, if you're already in the habit of applying a daily moisturizer, you won't notice a change in your routine — but you will notice a change in your skin's health.
How to Choose the Best Moisturizer With SPF
Before you get to shopping, let's answer some of your top questions on how to find the right SPF moisturizer for your skin:
Will a moisturizer with SPF give me the same hydrating benefits as a one without SPF?
Not quite. "Our evaluations found that day creams with SPF typically provided lower moisturization than night creams," explains GH Beauty Lab chemist Danusia Wnek. These daytime formulas are likely omitting some moisturizing ingredients to make space for SPF. Skin feeling extra dry? Use a night cream or an overnight mask — these offered the biggest boost of hydration in Lab tests!
Can I use sunscreen instead of my moisturizer?
In the summer, yes. "Facial sunscreen has emollients and other oils that can be effective to deliver moisturization and hydration," explains Steven Q. Wang, M.D., a board-certified dermatologist at Memorial Sloan-Kettering Cancer Center. "However, in the winter, I recommend using both sunscreen and a facial moisturizer, especially if you have very dry skin." Or you can try one of our Beauty Lab's two-in-one picks below.
In that case, what goes on first: sunscreen or moisturizer ?
Here's a cardinal rule of applying skin care: always put your thinnest products on first, and layer on the rest in order of thickness for optimal absorption. If you opt for a two-step sunscreen-and-moisturizer combo instead of a moisturizer made with SPF, apply your normal moisturizer first, then layer sunscreen (with an SPF of 30 or higher) over it.
Will SPF or sunscreen dry out my skin?
Maybe. "Some sunscreens may also contain alcohol which tends to dry out skin," explains Dr. David Lortscher, board-certified dermatologist and CEO of Curology. "Look for formulas without alcohol to avoid dryness or irritation." Check out the ingredients label for culprits: drying ethanol can sometime be written as "SD alcohol" (specially denatured alcohol) or "alcohol denat." But here's a loophole: if you see cetyl, stearyl or cetearyl alcohol, don't panic. These are actually fatty alcohols that can act like emollients, softening the skin.
What's the best drugstore moisturizer with SPF?
Our GH pros' Top Lab Pick is L'Oréal Paris RevitaLift Bright Reveal Brightening Day Moisturizer SPF 30 (target.com, $9.99). It earned the top spot in our anti-aging day cream test, delivering visible improvements in skin's appearance alongside preventative sun protection in just four weeks.
An important note on safety: The FDA is currently proposing big changes to sunscreen regulations, and only physical sunscreens with the active ingredients zinc oxide or titanium dioxide are recognized as generally safe right now. "Until they reach a more robust conclusion in late 2019, we're including a range of formulas (both mineral and chemical) that we've found to be effective against sunburn during our testing," explains Birnur Aral, Director of GH's Health, Beauty & Environmental Sciences Lab. "These picks also earned positive feedback with our consumer testers," so you'll love applying them every morning.
If we've convinced you to swap your old moisturizer, check out some winning products from our Beauty Lab, GH Seal stars and top dermatologist picks:
1
Top Lab Pick
L'Oréal Paris RevitaLift Bright Reveal Brightening Day Moisturizer SPF 30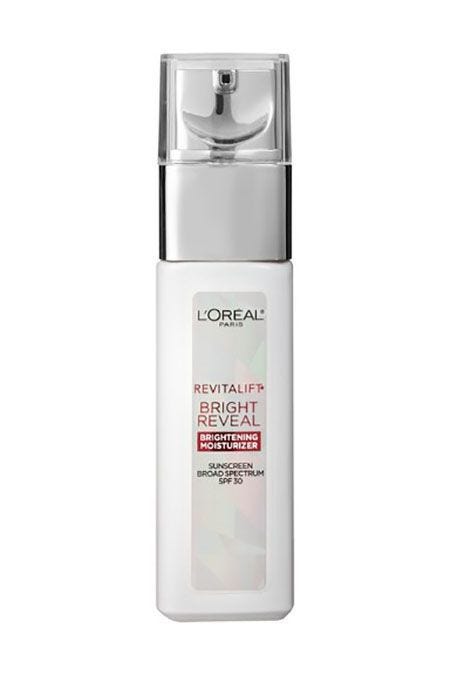 The winner of the Beauty Lab's anti-aging day cream test, this L'Oréal moisturizer with SPF 30 delivers the most bang for your buck. It proved super-effective at evening skin tone, reducing visible spots, and moisturizing skin. Lab tests found the vitamin C and glycolic acid lotion raised skin's hydration 28% and decreased UV spots by 11% in four weeks. "It decreased the appearance of my wrinkles and made my skin brighter and more radiant," said a tester.
2
Best Value
Neutrogena Oil-Free Daily Facial Moisturizer With Broad Spectrum SPF 35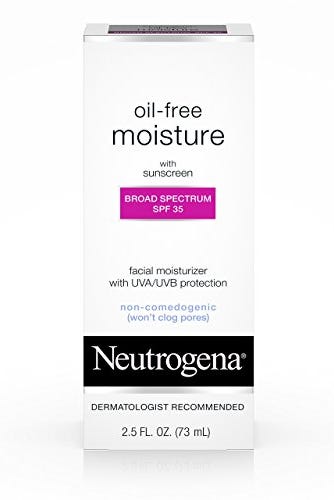 A winner in our 2018 GH Beauty Awards, Neutrogena's daily moisturizer is great for all skin types, especially if you're worried about your sunscreen feeling too oily. The glycerin-rich classic lotion is oil-free, and proven to feel light, and won't irritate skin. Consumers found the formula lightweight and non-greasy on skin, and it's hypoallergenic. Plus, it's backed by the GH Seal!
3
Best for Dry Skin
Mary Kay TimeWise Age Minimize 3D Day Cream SPF 30 Broad Spectrum Sunscreen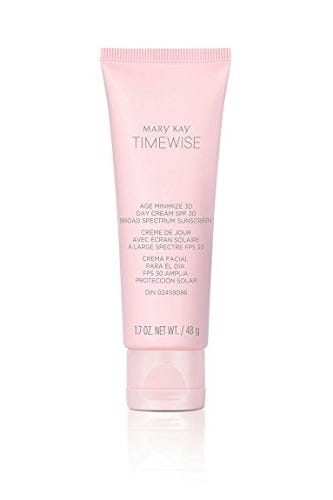 Mary Kay's lightweight lotion will keep your skin hydrated for up to 12 hours. Backed by our GH Seal, a clinical study found it immediately boosted skin's hydration levels by a whopping 238%! Plus, the formula is packed with potent ingredients like niacinamide, peptides, and resveratrol to help reduce the look of fine lines and wrinkles. We also love that it comes in two versions — this one for normal to dry skin and another for combination to oily skin.
4
Best for Oily Skin
RoC Multi-Correxion 5-in-1 Daily Moisturizer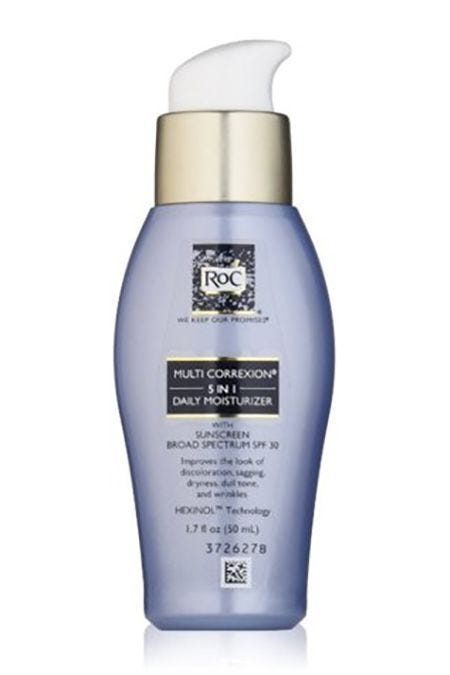 RoC's lightweight day cream with SPF 30 is the personal favorite of GH Beauty Lab chemist Danusia Wnek. While it didn't have the best hydrating power in our tests, she explains that makes it "perfect for anyone with oily skin who isn't looking for heavy moisturizer." The gentle, non-greasy formula was also a heavy hitter for smoothing fine lines and skin texture.
5
Top Dermatologist Pick
CeraVe AM Face Moisturizer with Sunscreen SPF 30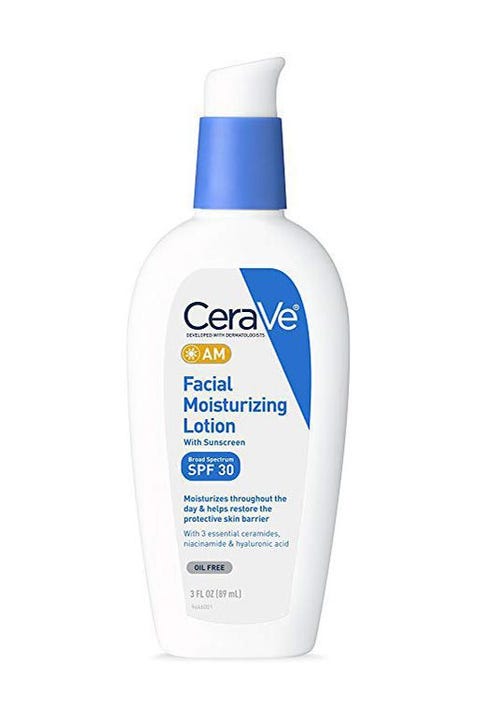 Recommended by Dr. Lortscher, this CeraVe lotion is "a great budget-friendly option." Not only is it packed with SPF, it's also formulated with skin-perfecting ingredients like niacinamide and super-hydrating hyaluronic acid to keep even sensitive skin moisturized all day.
6
Best Multitasker
Olay Regenerist Micro-Sculpting Cream Moisturizer SPF 30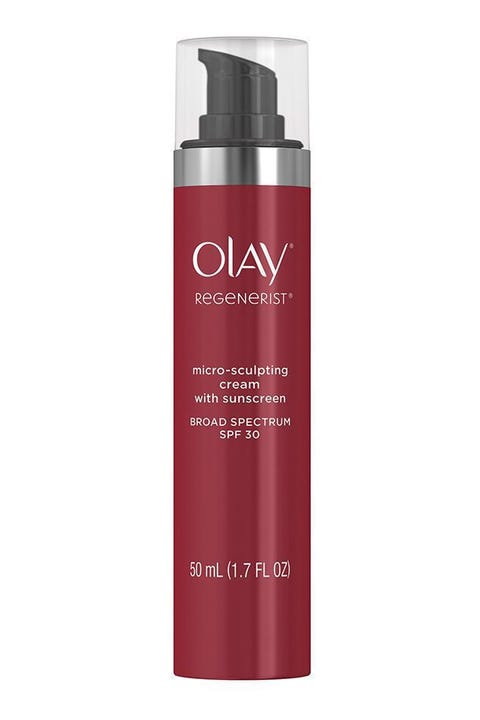 This GH Seal star may be the only product you need in your morning skincare routine. It is an anti-aging serum, moisturizer, and sunscreen in one, with line smoothers (like peptides), hydrators (like glycerin) and broad spectrum SPF 30. Lab tests found it increased moisture levels in skin by 31%, which is more than any facial SPF 30 previously evaluated. Testers said the "quick-absorbing," "non-greasy" formula firmed skin, diminished wrinkles, and brightened complexions.
7
Best for Brightening
Garnier SkinActive Clearly Brighter Brightening & Smoothing Daily Moisturizer SPF 15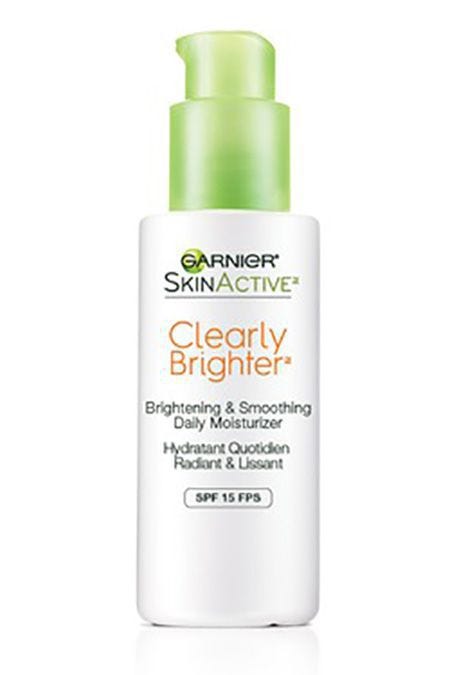 Packed with powerhouse skin brightener vitamin C, this featherweight Garnier lotion lights up dull skin. Testing showed that it helped stimulate cell turnover, making skin brighter, and 91% of users' complexions looked healthier after eight weeks. Not to mention, it's a GH Seal Star!
https://www.goodhousekeeping.com/beauty-products/g26586857/best-moisturizer-with-spf/