Including the ones that are best to use on your beautiful face!
There's nothing better than a natural summer glow. Except when you can fake it without damaging your skin by laying in the sun or a tanning booth. Enter the top-tested self-tanning lotions, sprays, and mousses ahead.
"The active ingredient in most self-tanners is DHA or dihydroxyacetone, which has been allowed by the FDA for external use," says Sabina Wizemann, a senior chemist at the Good Housekeeping Institute's Beauty Lab.
A FEW NOTES BEFORE YOU SELF-TAN:
Always self-tan in a well-ventilated room, and protect your nose and mouth when you're using a spray.
Exfoliate your skin first, which beauty YouTuber Jaclyn Hill does by using a sugar scrub, then shaving.
Avoid using moisturizers, as it could form a barrier on skin that prevents the tanner from developing evenly.
You can put cream on your hands and feet, as Hill does, which she says helps with blending.
Always read the packaging on your tanning solution to determine how long you should wait before showering.
Wondering what's the best self-tanner for your face? Make sure the product you're using mentions "face" or "face and body" on the bottle, advises Good Housekeeping Beauty Director April Franzino. See #4 ahead for the best facial self-tanner. From there, aftercare is the most important part of self-tanning.
How long will your self-tan last? The results should last about a week, and exfoliating first will help your tan last longer. Keep reading for top-tested picks from the Good Housekeeping Institute Beauty Lab and other online bestsellers to help you look sun-kissed for any occasion!
Best Overall
Xen-Tan Fresh Tanning Mousse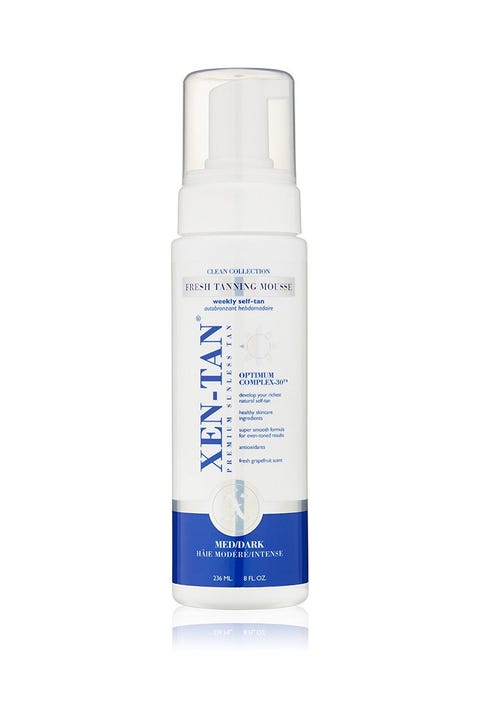 Xen-Tan's product was the overall winner in our instant self-tanner test. This fave earned high marks for its non-messy, nearly foolproof formula, and splotch-free appearance. It's easy to apply, and testers loved the clean, light grapefruit scent.
Best Value
Jergens Natural Glow Instant Sun Mousse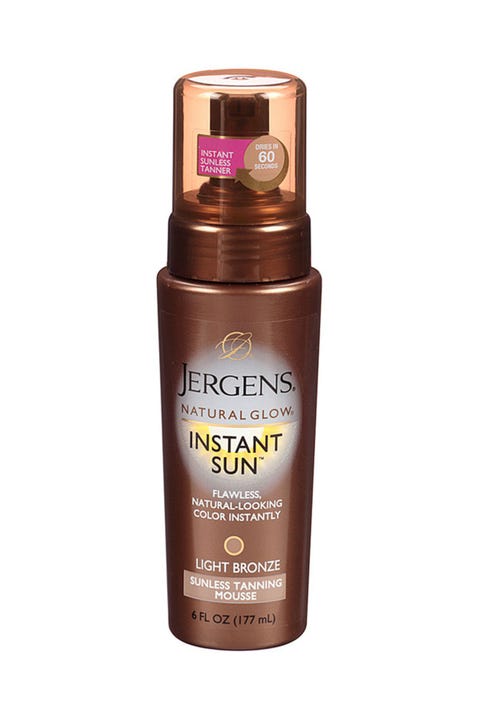 When we tested the hydrating foam version of the cult classic tanning moisturizer, it received high scores for going on quickly and giving skin a subtle warmth. "I've tried many, and this is my favorite," one tester said. "I'd pay any price for results like these."
Best for Fair Skin
Coola Sunless Tan Dry Oil Mist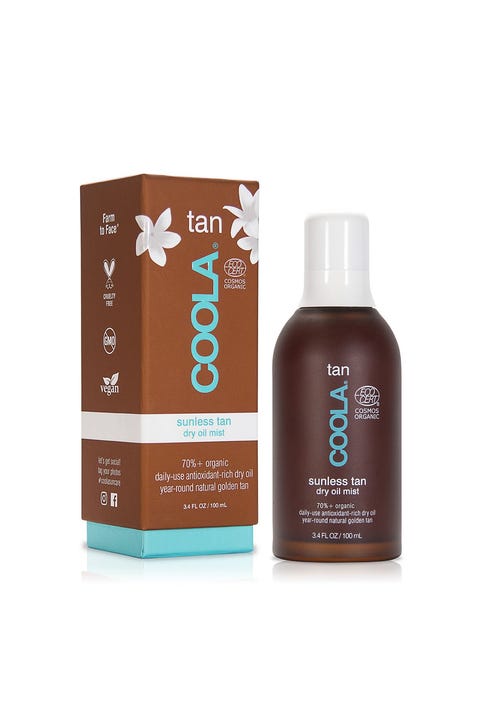 While testers loved that this pick absorbed quickly and left skin feeling great, many thought the mist was harder to control than lotion and left some streaking. Keep bathroom floors clean by standing on an old towel or newspaper while applying.
Best for Face
Kate Somerville 360 Face and Body Self-Tanning Towelettes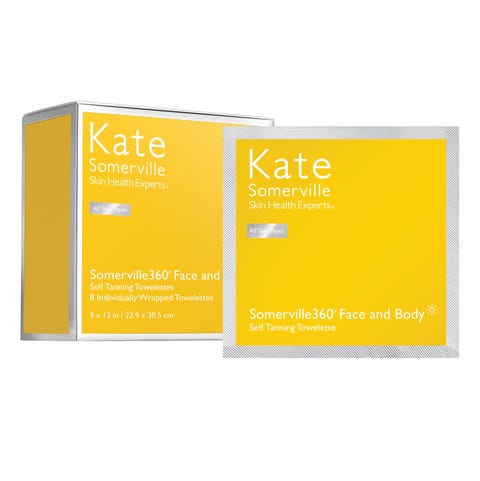 Kate Somerville's towelettes took second place in our tests. Great for on-the-go bronzing, the fast-absorbing formula was mess-free, and testers loved the natural-looking tan. A few people said the towelette ran dry toward the end of application.
Mess-Free
Isle of Paradise Self-Tanning Water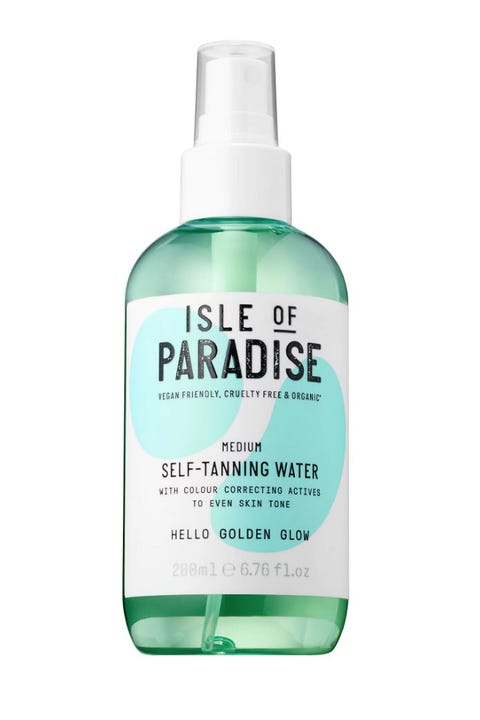 "Clear" self-tanners are all the rage right now because they claim not to ruin your sheets and towels. This new formula from Isle of Paradise looks and feels just like water. And few hours after rubbing it in, you'll be glowing.
Streak Prevention
St. Tropez Self Tan Purity Bronzing Water Face Mist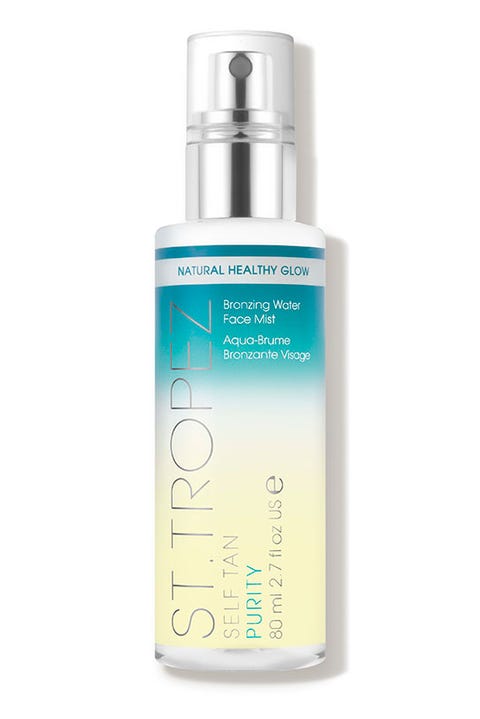 St. Tropez is also getting on-board with the clear, no-mess trend. Its version doubles as a cooling face mist that won't leave you looking streaky.
Amazon Bestseller
Beauty By Earth Self Tanner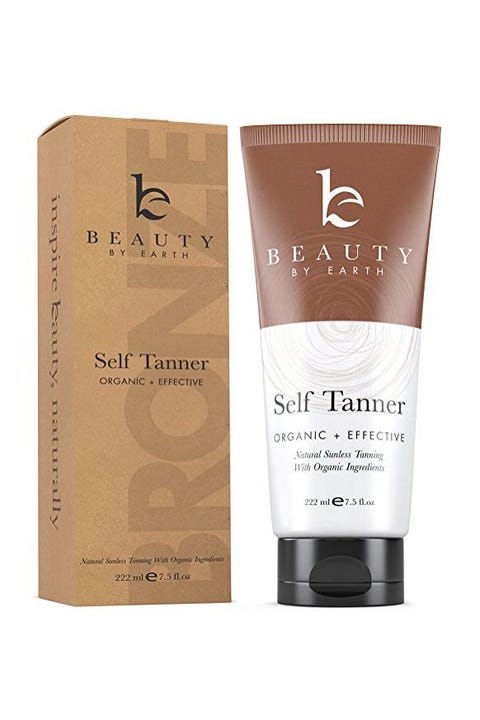 This lotion-based tanner is a best-seller on Amazon for a reason: Reviewers say they liked that they could control how deep their color got by applying over the course of 4-7 days — and the fact that they could actually pronounce the ingredients.
Gradual Results
St. Tropez Gradual Tan Everyday Tinted Body Lotion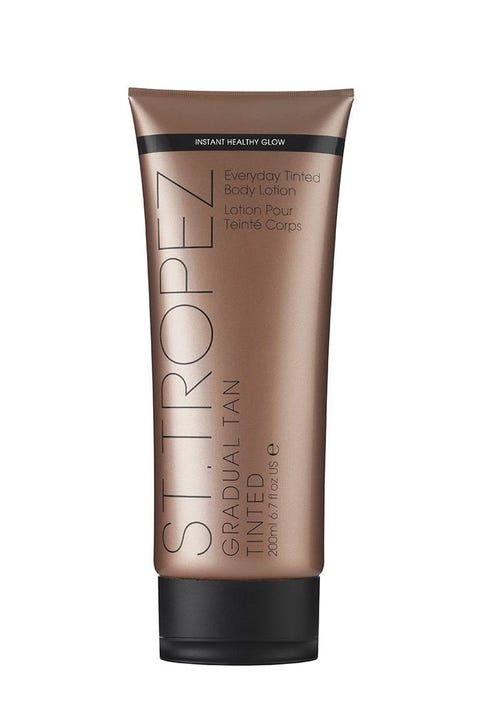 Lab testers thought this tinted body lotion worked quickly (on average, three days) to deliver their perfect color. To avoid staining your clothes, make sure skin is completely dry before getting dressed — some people said the rich texture took longer to absorb.
Best Scent
Josie Maran Argan Liquid Gold Self-Tanning Oil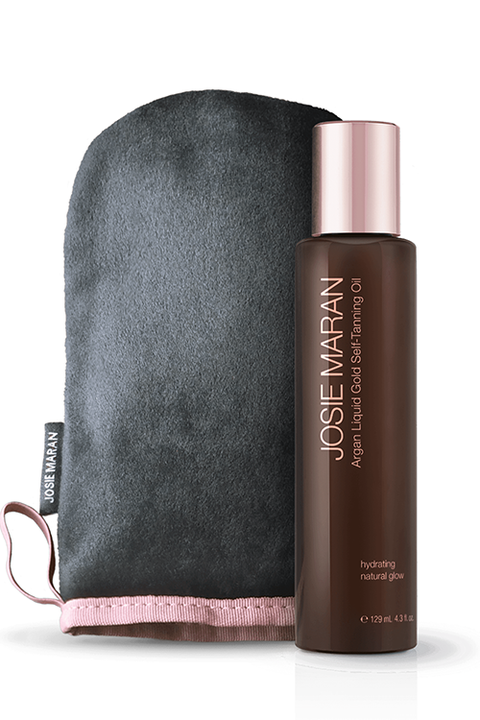 Available in five fruity scents, testers rated Josie Maran's oil best-smelling and liked the natural color but wished it were deeper. The formula is quick-drying and non-greasy.
Great Scent
Body Drench Quick Tan Self Tan Dry Oil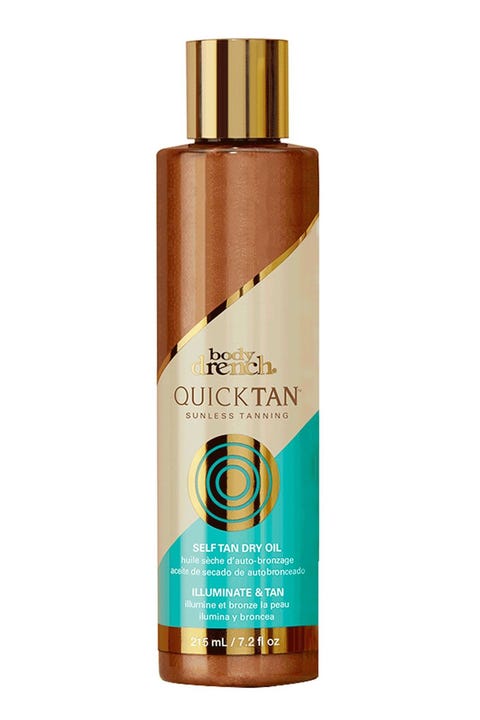 Self-tanners are infamously bad-smelling, but Lab testers enjoyed the scent of Body Drench's product. Shake the bottle before use since it separates over time and put down a towel — some thought the dry oil's thin consistency made it messy and hard to apply.
Good Scent
Ten Minute Tan for Face & Body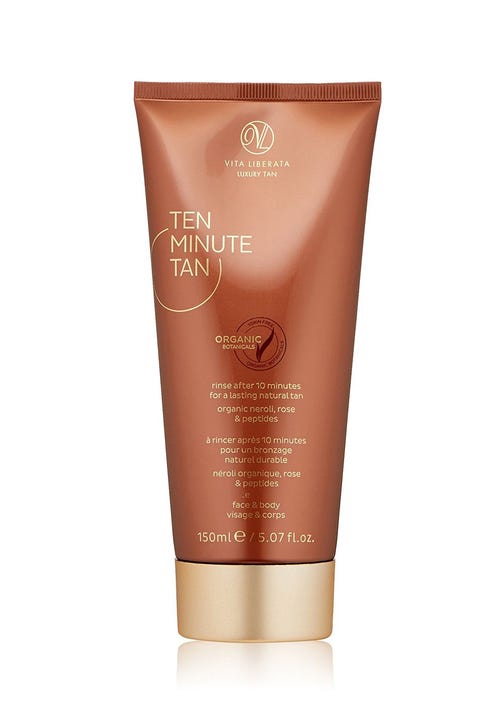 Testers liked that this had a pleasant scent during application, but it did fall short in performance. Many felt it didn't produce their desired depth of color following the directions provided and the minimal color achieved faded quickly.
Best for Travel
Sun Bum Self Tanning Towelettes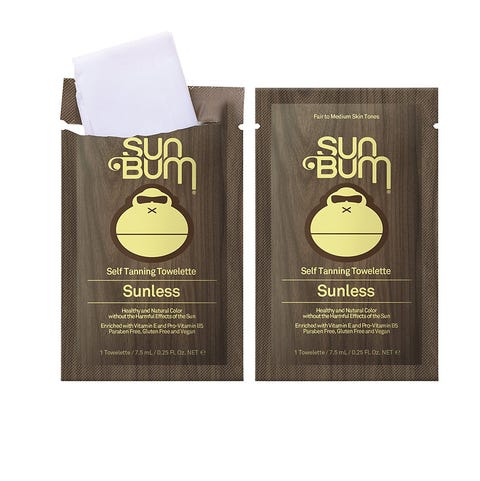 bedbathandbeyond.com
$8.99
These individual towelettes are easy to pack for a vacation or take to-go. Our pros found they absorbed quickly into skin making application virtually mess-free. Though easy to use, many testers only noticed a faint color payoff.
Natural Look
Guerlain Terracotta Sunless Heavenly Bronzing Mist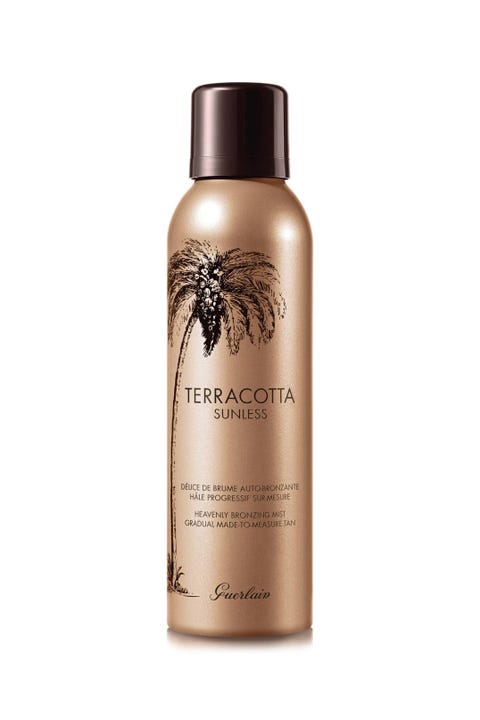 After a few days, testers loved the natural color and depth of tan from Guerlain's aerosol mist. Some found application messy, so stand on an old towel and apply in a well-ventilated area. For your face, mix with lotion in your hand and then apply.
Quick Results
St. Tropez Self Tan Express Bronzing Mist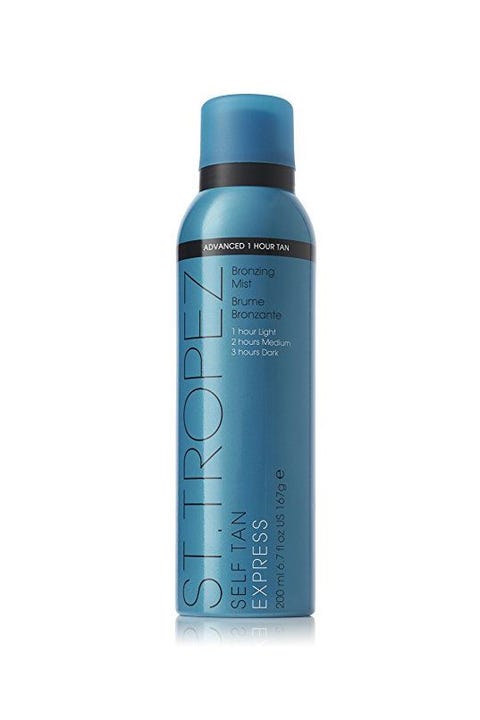 Grab St. Tropez's self-tanning mist (and mitt) for a natural-looking tan in just a few hours. Lab testers loved that they got their perfect level of color after one use. Since it's an aerosol mist, apply in a well-ventilated area that you don't mind getting messy.
Even Color
Fake Bake 5 Minute Mousse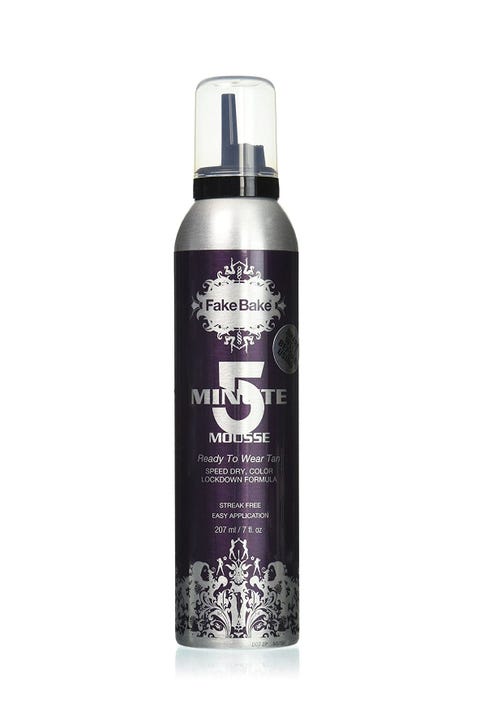 Great for people who always worry they're going to miss a spot, Fake Bake's formula is tinted, which acts as a guide for even application. Testers liked the natural-looking color they got, but many felt that the mousse application was a little messy.
Sephora Bestseller
Tarte Brazilliance PLUS+ Self-Tanner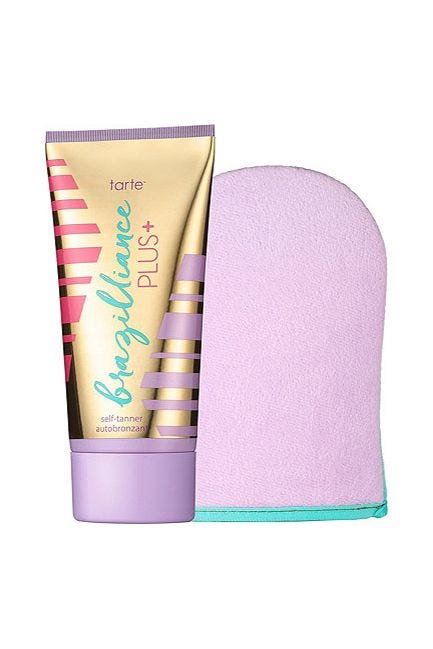 Score Tarte's product at Sephora and get a handy application mitt with it. The updated version of their best-selling tanner, it's now packed with ingredients to exfoliate and moisturize (key for smooth, non-streaky tans) while adding color.
Ulta Bestseller
Tan-Luxe The Face Illuminating Self-Tan Drops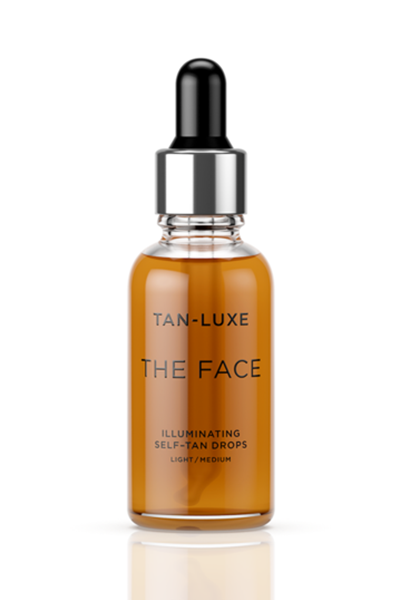 A bestseller at both Ulta and Sephora, Tan-Luxe's oil mixes into your facial moisturizer, serum or oil for a boost of color. It's a little pricey, but one reviewer said, "It took using three drops for three days to get a base tan and now I only use it every other day or so."
Smooth Finish
Tan-Luxe The Gradual Illuminating Tan Lotion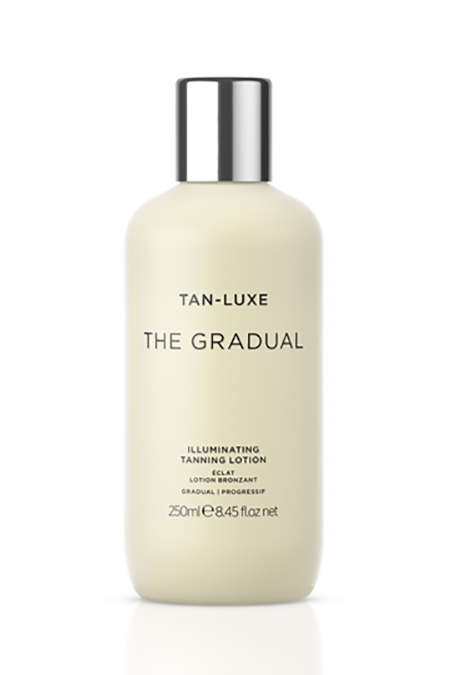 Testers loved the lotion's scent during application and development, and that their tan looked natural and not blotchy. For best results, apply it with a tanning mitt since some people said its thin consistency "made application a little more difficult."
Easy to Apply
St. Tropez Self Tan Express Advanced Bronzing Mousse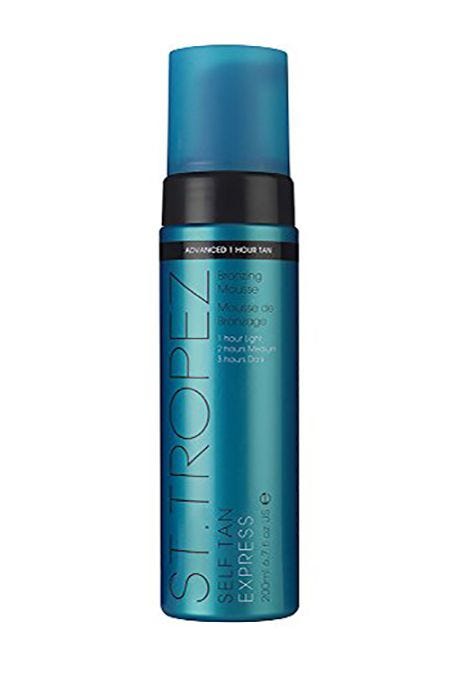 This easy-to-apply formula is the mousse version of one of our Beauty Lab's top-tested picks. With hundreds of positive reviews, it's a bestseller at Amazon, Sephora and Ulta. Apply and leave it on for one to three hours before rinsing to get your perfect bronze.
Facial Pad
Dr. Dennis Gross Alpha Beta Glow Pads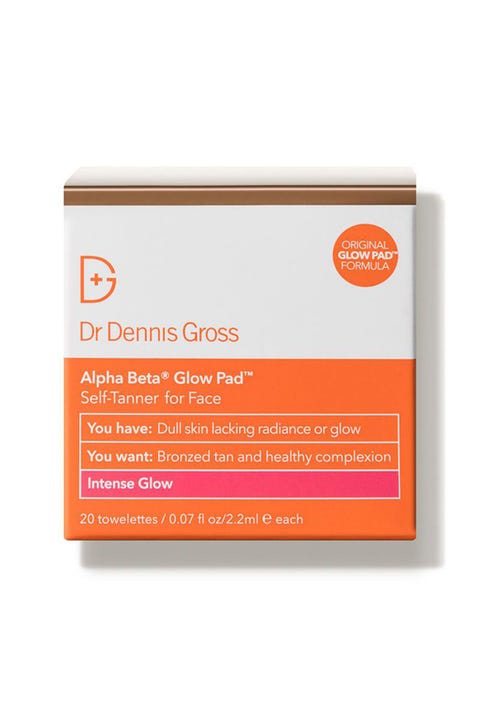 One of Sephora's bestsellers, these facial pads are a two-in-one self-tanner and skin perfector. Swipe one on to up your glow while also exfoliating, tightening pores and helping to reduce sun spots, thanks to added alpha- and beta-hydroxy acids.
Streak-Free
Clarins Self Tanning Instant Gel