We've all been stressing the importance of moisturizing your mane, but it's also important to follow the "everything in moderation" motto. Having too much of a good thing (i.e conditioner or protein) can actually start damaging your locks and cause limp, greasy strands over time. To better understand the harmful effects of over-conditioning your hair, we chatted with celebrity hair stylist Philip B.—Halle Berry and Charlize Theron are fans of his luxe hair care line—about finding the perfect nourishing balance.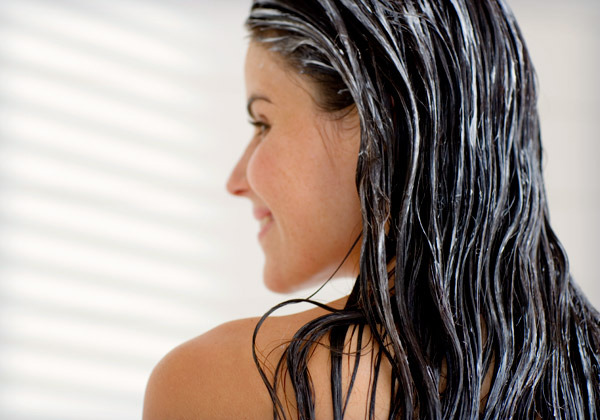 HOW CONDITIONERS WORK
"Conditioners work like moisturizers do on the face," explains Philip. "They create a seal of natural emollients that hydrate and nourish your hair throughout the day, making it healthier, shinier, and more resilient to damage. When hair has a healthy moisture level it is more manageable, more pliable, and holds a style better." However, when your tresses are over-conditioned strands appear stringy and lack volume. "You know you've over-conditioned when your hair feels too soft and limp, or if it feels heavy, thick, and oily. Either way, it will be hard to style," says Philip. These annoying effects can also come from using the wrong conditioner for your hair type.
TIPS FOR CONDITIONING CORRECTLY
Fine hair:
To keep your thinner strands properly hydrated, lighten up or change treatments. "I know it sounds counterintuitive to put oil on fine hair, but the right oil, used the right way can work miracles!" says Philip. "If you have fine, limp hair, try a pre-shampoo botanical oil treatment. Be sure to find a plant and flower-based oil that's light and sheer enough to slip under the cuticle." Then, use a clarifying shampoo to wash away any excess oil left on the surface. "Your hair will automatically feel thick and bouncy, more manageable, and shinier!" says Philip. "Then apply conditioner to wet hair and let it sink in for a minute before you shampoo. Or, simply shampoo your hair and then apply conditioner from the mid-shaft down to the ends," suggests Philip.
Medium to thicker hair
"Use a light daily conditioner with natural hydrators such as shea butter, which nourishes your hair without weighing it down," says Philip. "If your hair is already over-conditioned, give it a good rinse with a clarifying shampoo to remove some of that occlusive residue." Afterwards, your hair should feel weightless with a ton of movement! Apply conditioner all over your head. Let it sit for a minute or two to sink in, then rinse thoroughly. "If your hair is on the dry side, apply a leave-in conditioner after you get out of the shower and before you style your hair," suggests Philip.
HOW OFTEN SHOULD YOU APPLY CONDITIONER

"How often you condition your hair depends on your hair type and length and how much chemical processing and heat styling it's subjected to," says Philip. "If your hair is bleached or chemically relaxed, it will need a lot more love than if you use a single-process color. A good rule of thumb is to condition every time you shampoo." Philip suggests using a deep conditioning treatment once every week or so—more often depending on how much damage there is. "Some of my actress clients have been known to sleep in my Rejuvenating Oil every night, because they've had to make radical color changes for a film role," says Philip. "It's the old rule: The more you take out of your hair, the more you have to put into it!"
PROTEIN PROBLEMS
Another hair essential that you should use in moderation: Protein! Too much of it will leave your hair feeling parched and brittle. "Rather than applying a strict protein pack, look for conditioning treatments with a balanced ingredient deck. I recommend a mix of protein and natural emollients, like shea butter, soy protein and essential oils," says Philip. "In my own products, I actually prefer to use amino acid chains, which are the building blocks of protein, rather than complete protein chains. Amino acids bind into the hair like an intercellular cement, strengthening the hair from within. That's much better than putting on a protein pack that can leave your hair feeling like straw!"
How often do you condition your hair? Do you find that you're over conditioning sometimes?
Source:
https://www.beautylish.com/a/vcywy/over-conditioning-your-hair