If you're reading this, you probably resolved to make health a habit this year, like yours truly. In a perfect world, I'd be on my way to the gym right now, instead of writing an article about how to get fit without physical exertion. But this is real life.
And the reality is, things go a little haywire in January. Work starts up again, there are leftover holiday treats inside your building, there are tempting food-trucks outside of your office. And by the time you get home, post-holiday exhaustion sets in, so you take solace in good ol' Netflix. I may or may not know exactly how you feel.
All joking aside, I've cracked the code on how you can tone up in less than fifteen minutes a day without any visits to Planet Fitness. Why wait to break out the sleeveless dress or short-shorts until you've reached your "fitness goals"? Here are four ways to instantly sculpt yourself, so you can confidently rock the body you have right now.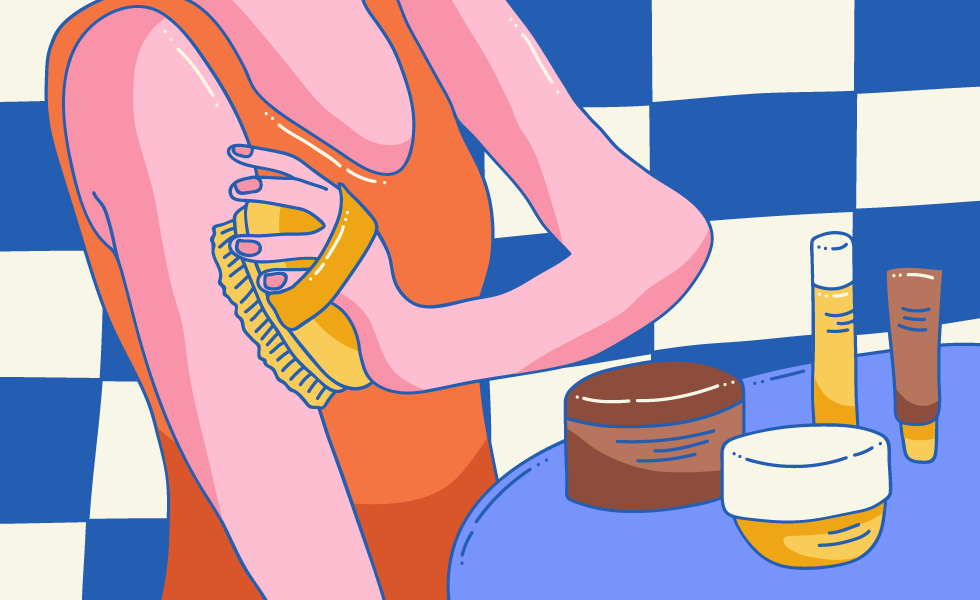 Brush it off
Let's talk about dimples. Not the adorable facial feature, but its not-so-cute step sister residing in the southern region of our bodies. Cellulite affects all women regardless of weight, and unfortunately, lumpy looks can intensify with age. The good news: diminishing the look of dimply skin is possible. The great news: All you need is a body brush and about six minutes.
Before showering, simply sweep a densely bristled brush over your body, paying special attention to your trouble spots. Start by firmly brushing your feet, stroking upwards toward your heart to stimulate lymphatic drainage. Dry brushing not only boosts blood circulation to break up fat deposits, but also exfoliates away dead skin cells revealing a smoother, firmer physique. I like how the Mila Moursi Rejuvenating Dry Body Brush ($49) features sturdy boar bristles within a hand held design, so I can brush with precision and ease.
Contour from the neck down
If you think getting a sculpted body takes months of consistent exercise, you're totally right. True fitness doesn't happen overnight, but appearing more toned and feeling confident in yourself can happen in as little as fifteen minutes. I recently came across Caudalie's two-step body contouring regimen, which consists of shower exfoliation and dry oil application for an buffed, polished look.
The magic begins with a quick exfoliating session featuring the Crushed Cabernet Scrub ($38). In the shower, massage the grapeseed infused formula onto your body using circular motions to stimulate lymphatic drainage, awaken blood flow, and perk up trouble spots. After rinsing, step out of the shower, apply the Contouring Concentrate ($35) onto damp skin and let dry. The concentrate's 100% plant-based formula hydrates and firms skin with a light-reflecting sheen for a full-body contour effect.
Shape up Brazilian style
If getting a beach bod is your main resolution for 2019, pick up a jar of Sol De Janeiro Brazilian Bum Bum Cream ($20). When circularly massaged onto legs, tummy, arms and booty, this caramel-scented miracle worker softens, tightens and restores elasticity for a bikini-ready physique sans sarong. The secret? It's formulated with caffeine-rich guaraná and moisturizing cupuaçu butter to immediately invigorate blood circulation and firm up the flesh—kind of like a cardio circuit but with added hydration. Similar to the age-defying effects of exercise, Bum Bum Cream also keeps skin youthful with antioxidant and selenium-infused ingredients, including skin-plumping açaí oil and Brazil nuts. So, the next time you skip leg day, Sol De Janeiro has your back.
---
Strut your stuff
I'd like to re-name this product the 5-Minute Celebrity Transformation. Charlotte Tilbury Supermodel Body ($65) bathes your features in a warm, shimmery glow that replicates the celeb-style radiance you see on the red carpet. Infused with caffeine, menthol, and FermiProtect (an extract of wild shiitake mushrooms), the champagne-colored formula reduces puffiness, stimulates microcirculation, and preserves collagen fibers. I love how this silky illuminator absorbs onto my skin. It creates a luminescent look that plays with shadow and light to smooth, sculpt and lengthen my limbs. Simply roll on, blend, and confidently strut down life's runway.
Source:
https://www.beautylish.com/a/vzixy/4-ways-to-get-a-toned-body-without-breaking-a-sweat