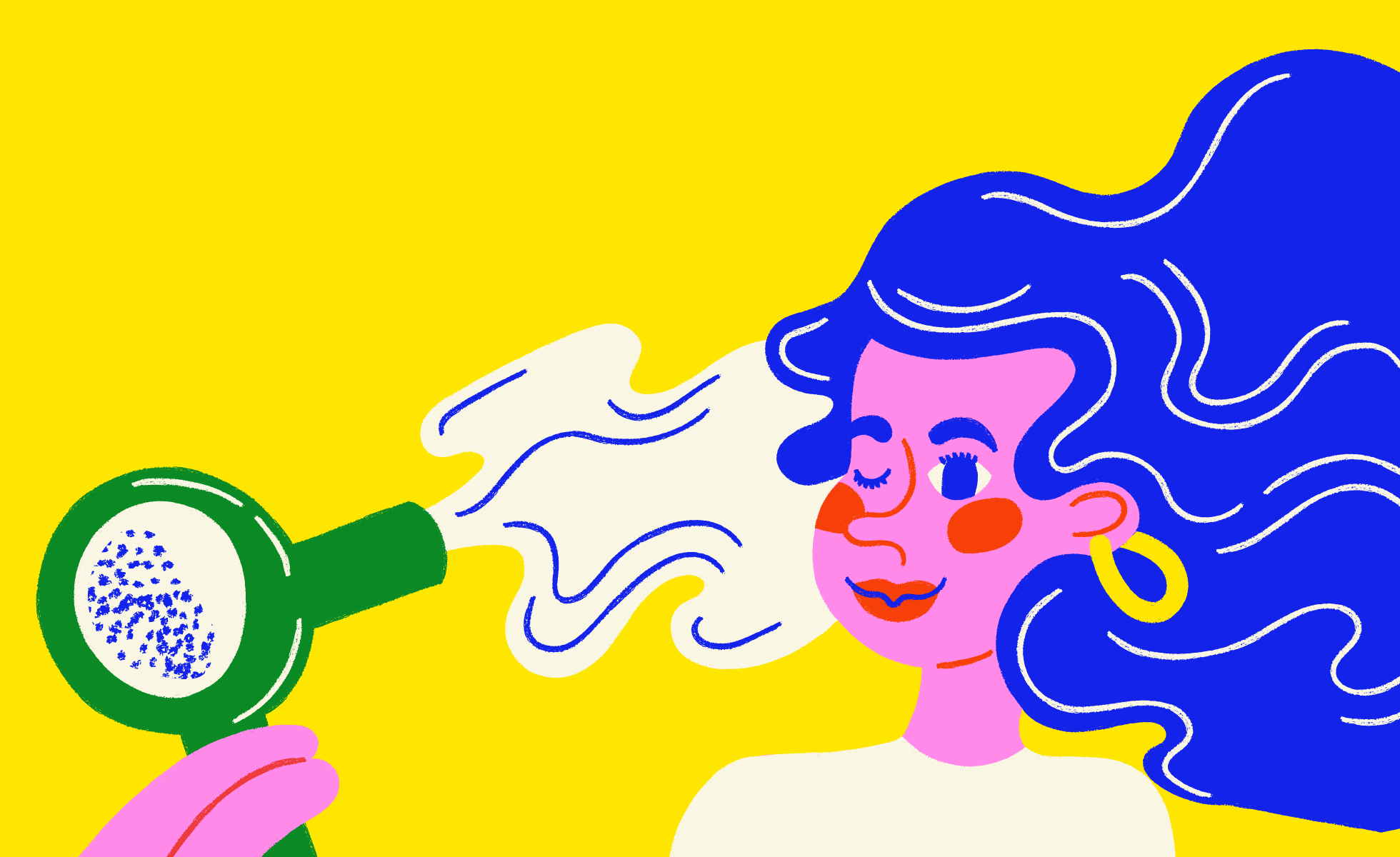 What you are about to read will change the way you look at your blow dryer forever.
Hair dryers are known for transforming wet locks into perfect blowouts, but you might not be aware of the forty other uses of this versatile hot tool. Here's how you can get the most out of your blow dryer:
Beauty/Body

1. Use to dry wet polish.
2. Dry damp makeup brushes, beauty blenders, body brushes and loofahs for instant use.
3. Use to enhance the absorption of deep conditioning hair treatments. Apply a mask or oil to hair, cover with a shower cap, then slightly lift the sides to fill the bonnet with heat for a DIY steaming effect.
4. Same goes for deep conditioning hand treatments! Simply apply a nourishing lotion and plastic gloves, then add heat for softer skin.
5. To prevent clumping, dry wet mascara quickly and thoroughly before you apply that second coat.
6. Heat your eyelash curler for a long-lasting lash lift.
7. Use to dry facial oils, moisturizer and self-tanners.
8. Slightly dry eyelash glue before application of falsies.
9. Create windblown hair for Beyoncé-inspired selfies and videos.
10. Dry super liquid-y foundations for buildable coverage.
11. Use to remove excess powder or eyeshadow from your face and blow away fall-out from your clothes.
12. Warm up hard pencil liners, so color glides on smoothly and smudges easily when creating smoky looks.
13. Revive second-day curls by applying a curl-activating cream and then using your diffuser on cool setting.
14. Dry your armpits after gel deodorant application to avoid clothing stains.
15. Use to air-out strong perfume from clothes.
16. Dry the inside of your ears after swimming or showering.
17. Dry your face on a low, cool setting after washing sensitive or acne-prone skin to avoid irritation from abrasive towels.
18. Dry wet or damp toiletries, like your toothbrush and face cloth, when traveling.
---
Fashion

19. Remove creases in your sneakers. Apply heat to the outside of your shoe and gently mold with your hand to reshape.
20. Warm up cold necklaces and bracelets before wearing.
21. Quickly dry wet socks and gloves.
22. Remove wrinkles from clothing by lightly spritzing with water and blow drying with high heat.
23. Stretch out tight leather shoes. Simply wear snug shoes or heels with socks and apply heat to widen.
---
Lifestyle

24. Clean off dust from your laptop keyboard using a cool setting.
25. Use as a body heater.
26. Use the cool setting for an A/C effect.
27. Dry small paint touch-ups on walls, cabinets or cars.
28. Warm seats and beds for extra coziness.
29. Defrost foggy windows and mirrors.
30. Use to quicken the diffusion rate of room air freshener.
31. Blow dust bunnies out from their hiding places for clean floors.
32. Dry caulking.
33. Defrost ice cream for easier scooping.
34. Reheat pizza without making it soggy. Simply place your slice on a paper plate and heat from underneath.
35. Heat up crayon marks on walls to slightly melt, making them easier to remove.
36. Dry handwritten ink to prevent smudges.
37. Create white noise to block out sound or when having private conversations.
38. Use heat to loosen stickers, price tags, and Band-Aids for easier removal.
39. Dry wet kitchenware if you don't have a dishwasher. Place plates, bowls, cutlery, etc. on a drying rack and blow dry until spotless.
40. Last but not least, a blow dryer can be the perfect present! Gift the multi-use hot tool with a print-out of this list so your friends and family can enjoy all of the benefits!
Source:
https://www.beautylish.com/a/vzirv/40-different-ways-to-use-hair-dryer